THE SHAKENET MOBILE APP FOR APPLE AND ANDROID
Updated: 19 June, 2020  (Original article released: 13 May, 2020) 
The ShakeNet mobile app for both iOS and Android have been officially released and are now LIVE and available for download on the Apple App Store and Google Play Store!
➡️ Click the links below to download.
The app is packed full of cool features that bring you closer to your own Raspberry Shake, if you have one, and other seismographs on our seismic network from around the globe!
So what are we waiting for?… Let's dive in and take a closer look!
LOG IN TO SHAKENET MOBILE APP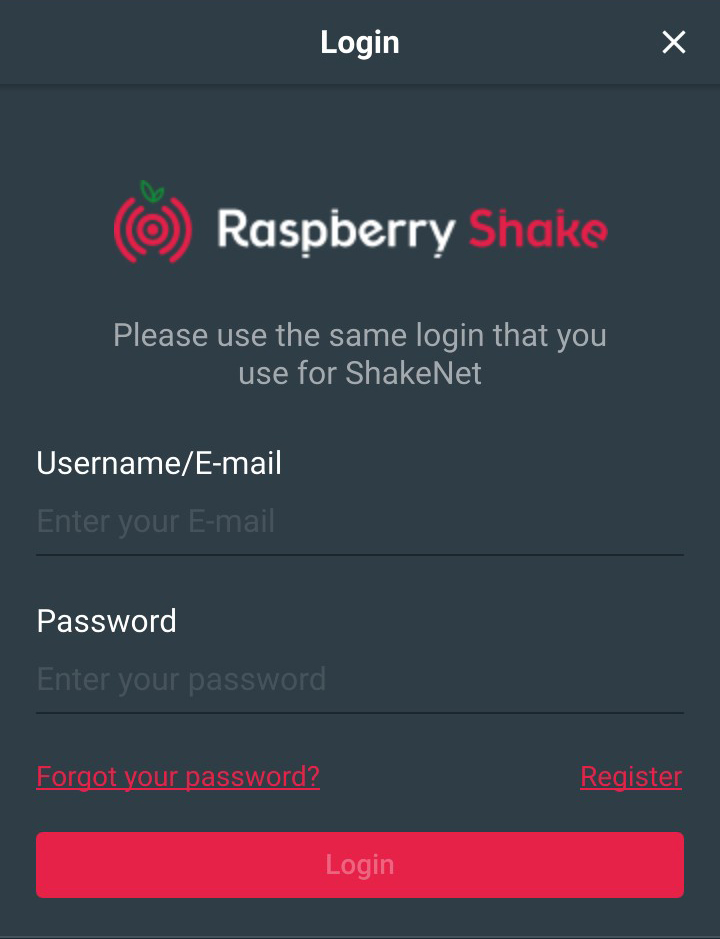 Once you have downloaded the ShakeNet app to your phone, log in using the same username and password you use to access the ShakeNet web app.
If you have not yet registered for ShakeNet, just click on the "Register" link and follow the onscreen instructions.
Remember to use the same email address as you used when setting up your Raspberry Shake device. If you do not yet own a Raspberry Shake, any email will work.
Once logged in, four icons will be displayed at the bottom of the screen which represent the different sections of the app: My Shake, Events, Stations and Settings.
Let's take a look at each section below:
EVENTS – VIEW EARTHQUAKES IN SHAKENET
After logging in, the app begins with the "Events" screen, displaying for you a complete list of the latest earthquake events from around the world.
What can you do?
Select between "list" or "map" view and see how earthquake events are recorded on your own device or one you are following (more about this later)
Filter events by Date, Distance, Magnitude and Relevance
See the event origin in relation to the location of the Raspberry Shake selected
View the waveform and frequency domain plots of the event
Automatically share event details across multiple social media platforms
Tip! – Try playing around with the "Trace Filter" options on waveforms and use two fingers to zoom in.
STATIONS – EXPLORE SEISMOGRAPHS ON THE NETWORK
There are now well over 1,000 Raspberry Shake devices online and connected to the network. From this menu you can connect to any one of them from around the globe!
What can you do?
Search the interactive map to see active Raspberry Shake stations streaming data from around the planet
Click on a cluster of devices and the map will automatically zoom in to that area
See what Raspberry Shake models are online in that area indicated by the icon text 1D, 3D, 4D, B and SB
Select a specific device to view its details and live waveform
Tip! – Select a station from the map and a small window will open showing details of this device. To follow a station, click on the RS logo with the plus symbol, to follow it. You will now will be able to see live streaming data from your "My Shake" menu tab and to view recordings of earthquakes in the "Events" section!
MY SHAKE – QUICK ACCESS TO YOUR SEISMOGRAPHS
Welcome to your Raspberry Shake data in the palm of your hand!
What can you do?
See all your Raspberry Shake devices associated with your account under "MY STATIONS"
Click the drop down arrow to view more details including your device's current location and live data stream
See data from all the Raspberry Shakes you follow in the Stations menu tab
Tip! – Choose your device, or one you follow, and click the "Helicorder" option to see data recorded from the last 24 hours. Select an area of interest to see a close-up of the waveform and spectrogram.
SETTINGS – PERSONALIZE YOUR DISPLAY PREFERENCES
The "Settings" section is generally straightforward:
View your ShakeNet profile (which you can edit within the web app)
See the Raspberry Shake stations associated with your account
Configure the app to your preferences
Tip! – Try out the appearance settings to switch between "Dark" mode and "Light" mode.
THIS IS JUST THE BEGINNING
This is our first public release of the app and there are many more features and improvements to come!
If you have any feedback or need any app-related support, we would love to hear from you. Please contact us on the dedicated channel over at the community forum HERE.
Happy Shaking with ShakeNet!