Big things come in small packages
Raspberry Shake is probably the smallest seismograph of its caliber in existence, but don't let its size fool you. It can record earthquakes of all magnitudes. From the vanishingly small blips that are imperceptible to human senses, to the big destructive earthquakes that regularly happen around the world.
While the Earth shakes, other exciting activities happen all the time in the atmosphere, emitting sounds too low for our human ears to hear. These sound waves travel huge distances and come from an incredible number of sources such as meteorites, rocket launches, tornadoes, lightning, wind farms, airplanes, trains, traffic and much much more!
The Raspberry Shake and the Raspberry Boom monitor Earth and atmospheric activity from two different perspectives, making them the perfect compliment for a more complete picture. They conveniently snap right onto Raspberry Pi, the most popular single-board personal computer in the tech world. Once you plug in you are ready to start monitoring and connect with hundreds of others on the largest Citizen powered Earth monitoring network, called Station View, and discover fascinating events from around the globe in real time!
Picture above: the Raspberry Shake 3D Turnkey
How it works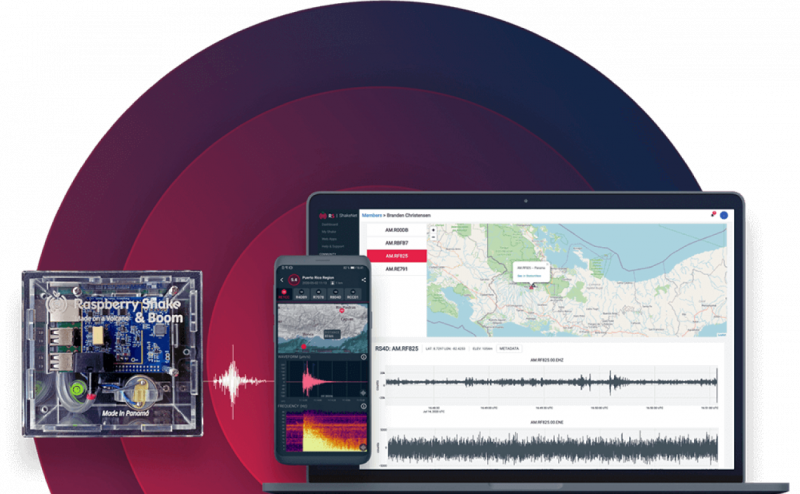 Watch live & historic earthquake activity with mobile & web display tools

Stay up to date with one of the most complete lists of earthquake events

Stay up to date with one of the most complete lists of earthquake events

Discover more by finding Shake stations near you or on the other side of the planet
Dig into the details and view historic data from any Shake on the network

Learn how to locate the epicenter of an earthquake

Connect with a world-wide community of fellow citizen scientists

Contribute to the real-time detection of earthquakes around the globe
One product, various use cases

Love gadgets? The Raspberry Shake range has something for everyone!



There are soooo many cool things you can do with your Raspberry Shake. These days loads of people seem to have a Raspberry Pi lying around collecting dust, waiting for something awesome they can do with it… Well here's your chance!
You too can use the same equipment professional researchers and citizen scientists are using to better understand changes in our ecosystem such as the melting of the ice caps, landslides, volcanic eruptions and earthquakes.
And as the Earth is always in motion due to our human footprint, you will even get to see the "cultural noises" of human impact happening right around you!
It's fun to make, fun to program, and fun to watch the Earth moooooove!
Join the network and read the ShakeLetter!