INSIDE SHAKENET, THE NEW RASPBERRY SHAKE WEB PORTAL!
The ShakeNet portal is designed to be your "one-stop-shop" for everything Raspberry Shake. Its launch represents a huge milestone for Raspberry Shake and after months of hard work, all of us are excited it is finally here.
Not only will it centralize Raspberry Shake activities, it will personalize and improve the user experience, encouraging better interaction between the RS community and provide a gateway for new tools, services and learning.
ShakeNet will continue to improve and evolve but what makes this first version so awesome?
… Let's find out!
Access your very own personal Dashboard

See real-time data from your own RS device(s)
Try out RS software web tools like our new earthquake "locator"
Customize your profile, with pictures and a description of your RS setup
View, search and connect with other Shakers and stations close to home
Get stats about the RS network e.g live station count, newest shake online etc
Share stories and start discussions with the community
Access our brand new, dedicated tech support forum
GETTING STARTED
Getting started is easy! Access ShakeNet from the RS website or by following the STEPS below.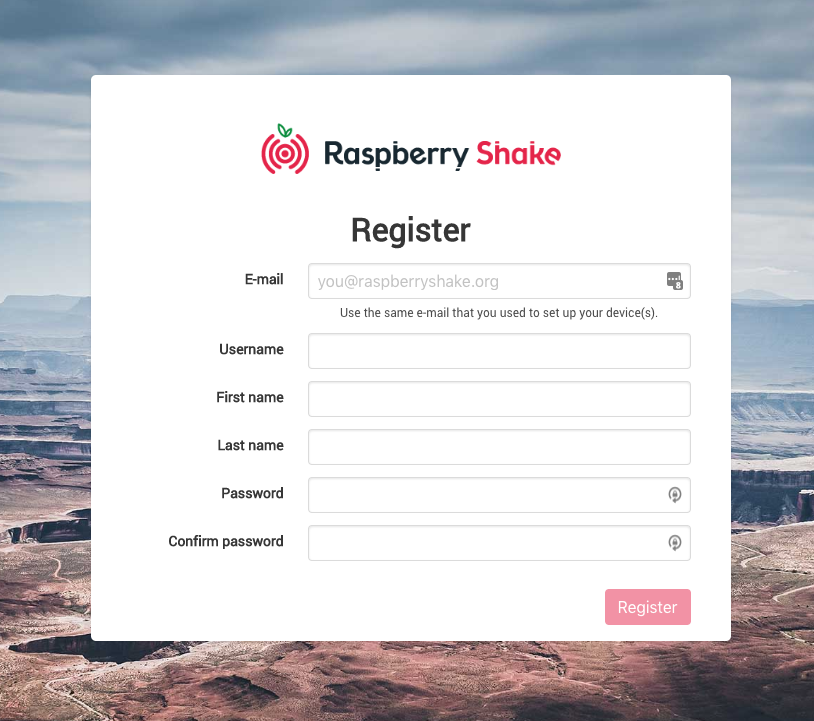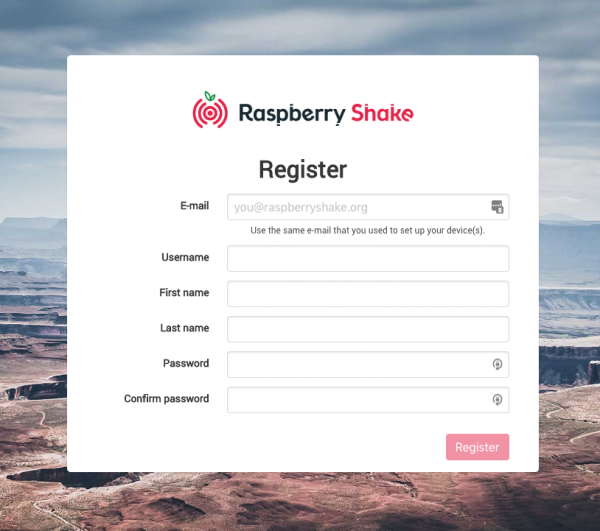 STEP 1: Go to ShakeNet Login page or Register -> HERE
STEP 2: Sign up with the same email address used to register your Raspberry Shake(s) – this links your RS devices to your account
STEP 3: Click on "My Shake" and set up your profile
STEP 4: Checkout all the features and take a look around
We encourage you to sign up to ShakeNet as soon as possible, to get the most out of your Raspberry Shake as we centralize all RS activities.
Let's take a quick look at getting around…
BASIC NAVIGATION
The left-side menu will allow you to navigate through the different sections within the platform.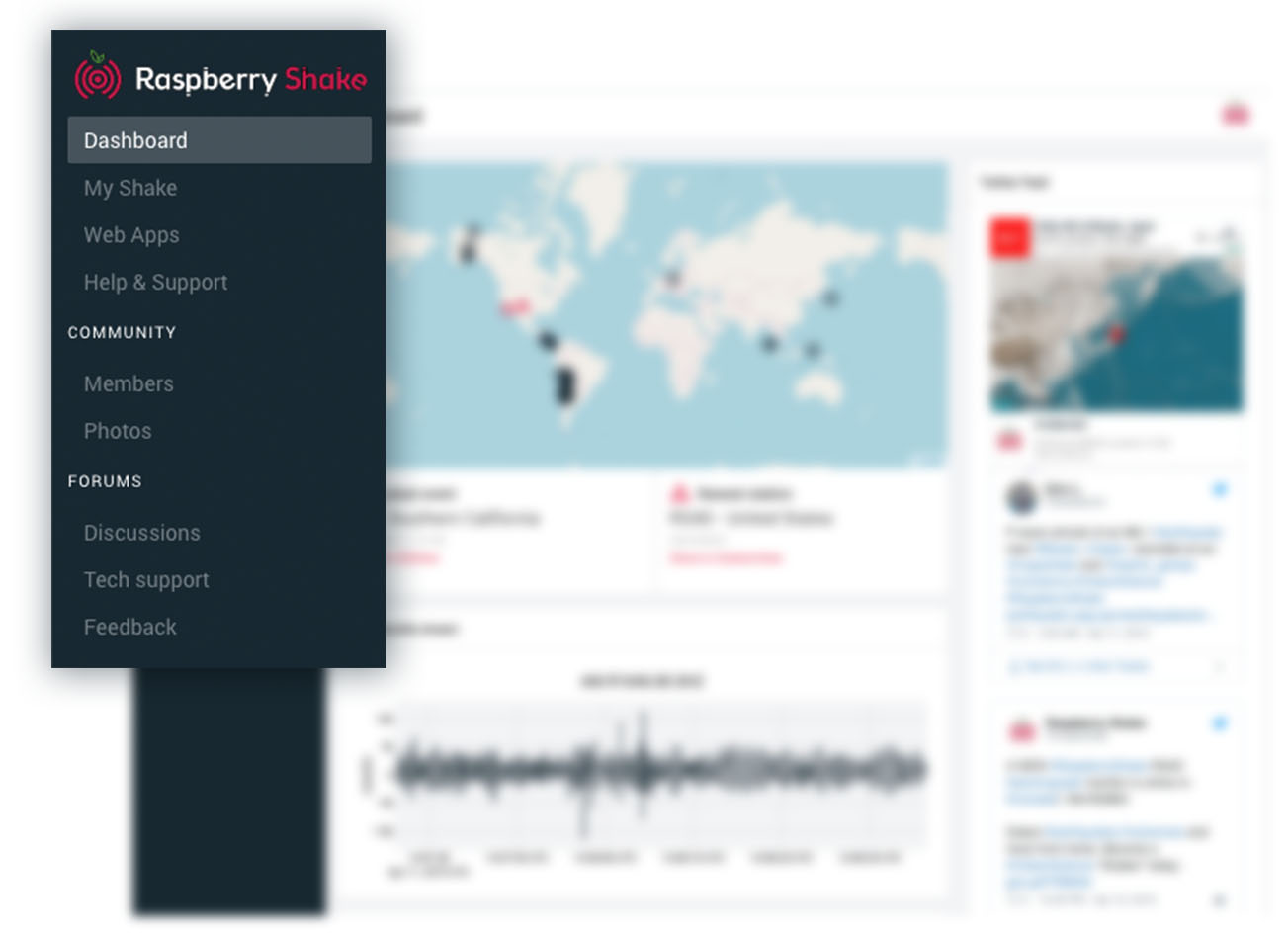 Main Menu
Dashboard

– Here you can see an overview of all things Raspberry Shake-ing!

My Shake

– This is your personal profile page.  Just click the edit buttons to personalize.  

Web Apps

– Check out the RS web apps and tools.  With more coming!

Help & Support

– Links to all the information you need
Community Menu
Members

– Connect with other ShakeNet members

Photos

– Check out photos shared by other members
RS Forum
Discussions

– Interact with community members on anything Raspberry Shake

Technical Support

–  Our brand new dedicated technical support channel.

Feedback

– How are we doing? We'd love to hear your feedback.
KEY FEATURES: A CLOSER LOOK
Dashboard
We hope that the ShakeNet Dashboard will be one of your most visited Raspberry Shake pages. Here, you can get an overview of all the latest activity including:
Integrated Station View map

Real time feed from your Raspberry Shake

Updates from the RS Twitter feed

Networks statistics

Newest discussions

Latest technical support queries  

Quicklinks

And much more!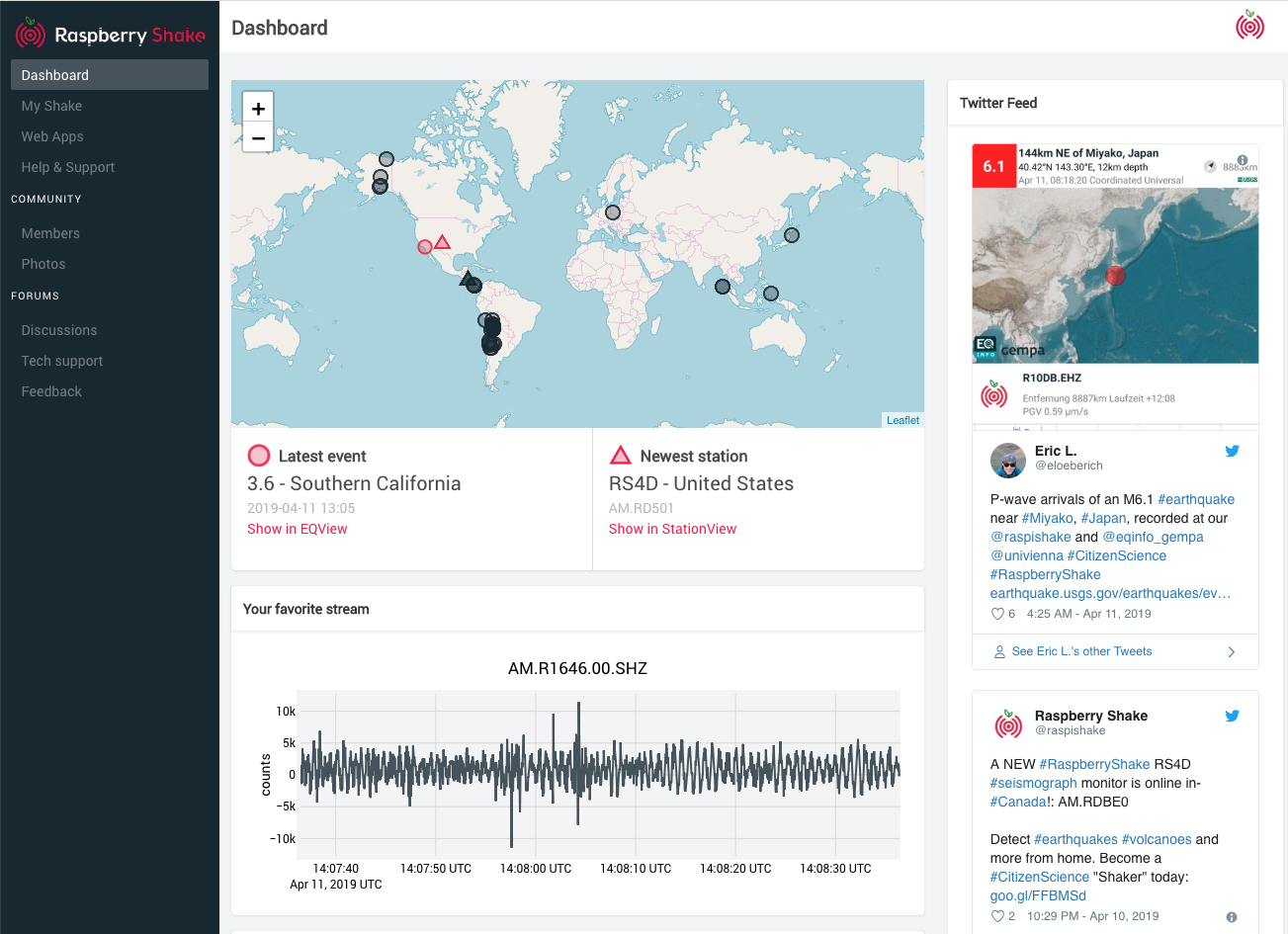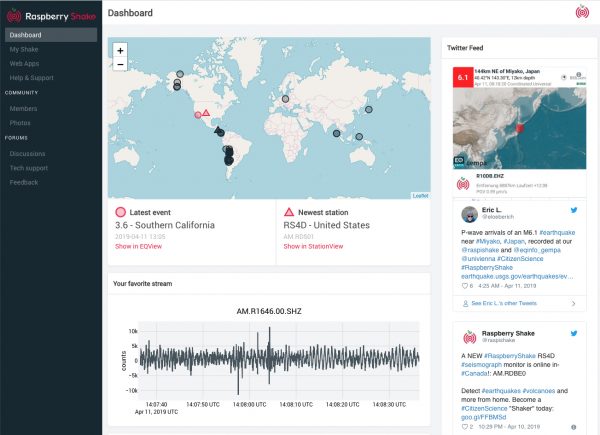 Station View is one of our most heavily visited web pages, so we have featured the map at the very top of your user dashboard. From here you will be able to see activity from the worldwide RS community with details of the newest stations to come online and updates of the latest verified earthquake events pulled in from EQ View. Below here, you will even be able to see a real time seismogram of your Raspberry Shake's activity (by activating this option on your My Shake page).
The RS Twitter feed has a huge amount of relevant and interesting activity. This is actually where the whole buzz about the recent events surrounding the mysterious seismic activity in the French island of Mayotte first started. Integrating the feed into your dashboard ensures that you can all see and interact with the latest activity from one centralized place. Even those not currently members of this social network.
From the Newest Discussions and Tech Forum blocks, you can see the latest topics and support questions from the community. As you continue down your dashboard you will come across some interesting stats about the RS network itself and ShakeNet portal. Last but not least, there are highlights of the latest RS blog posts and some useful links to help get you where you need to go.
Tip! – Why not pin your dashboard page to your browser?
My Shake
The "My Shake" tab is your personal profile page. By registering on ShakeNet with the same email address as you entered when configuring your Raspberry Shake(s), your account will automatically connect to your device(s). Here you will be able to see real time details of your Shake(s) activity.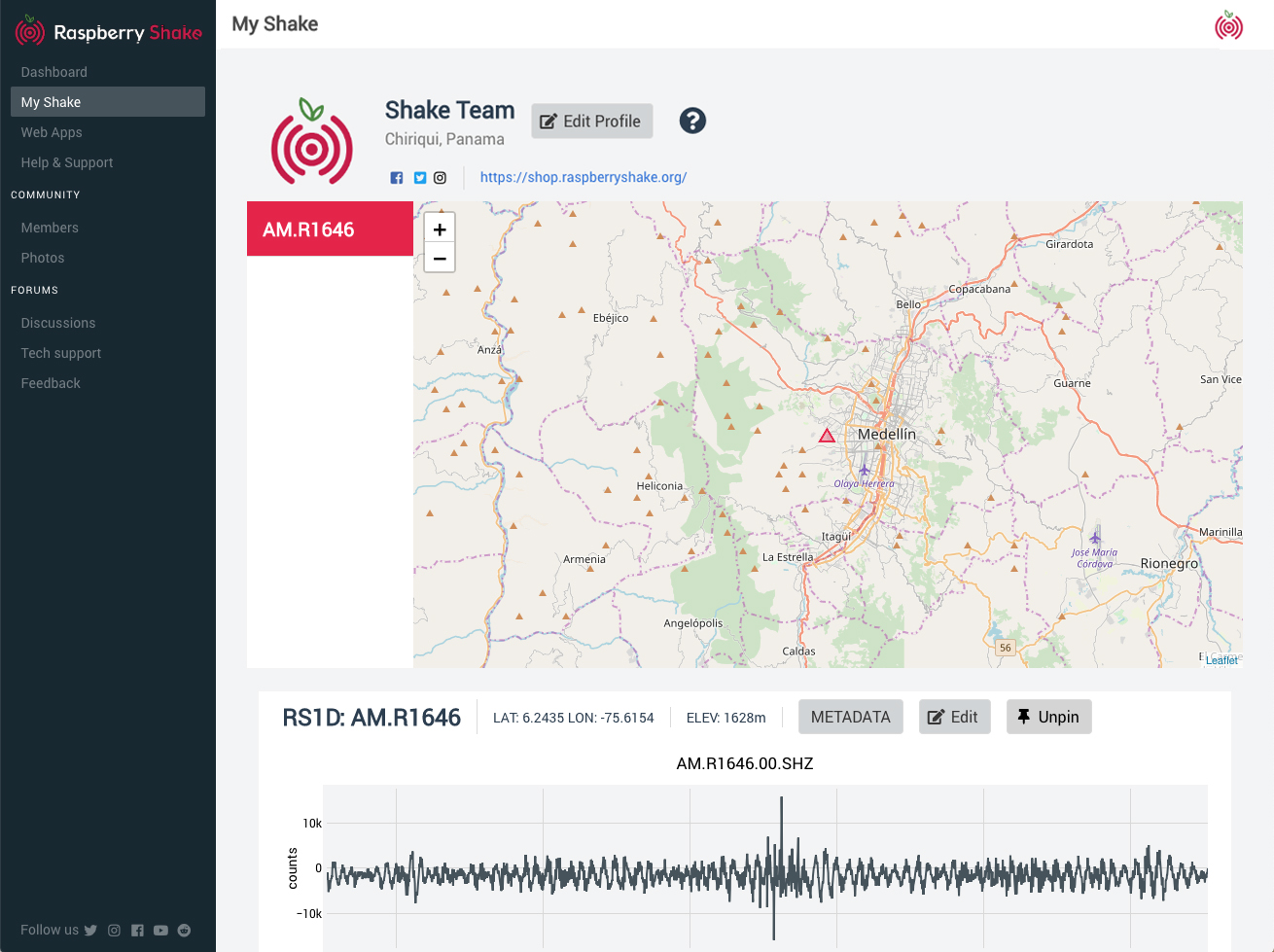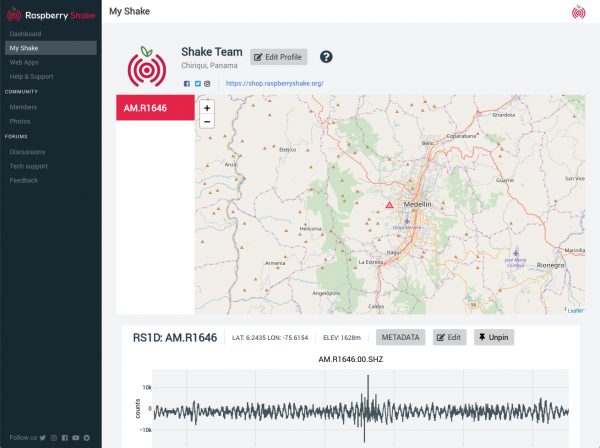 Configuring your profile page is fast and easy:
Simple click on the edit buttons to add your avatar, social media links, photos and a description of your shake(s).
Have you shared any photos of your device(s), setup, or anything else shaking yet?
Tip! – To improve your experience, please keep your profile "visible" as this will allow you to interact with other members on ShakeNet. Please note that this information is only accessible and visible to other users logged in to the ShakeNet website.
Web Apps
Quickly access popular web apps like Station View and EQ View along with new tools as we release them.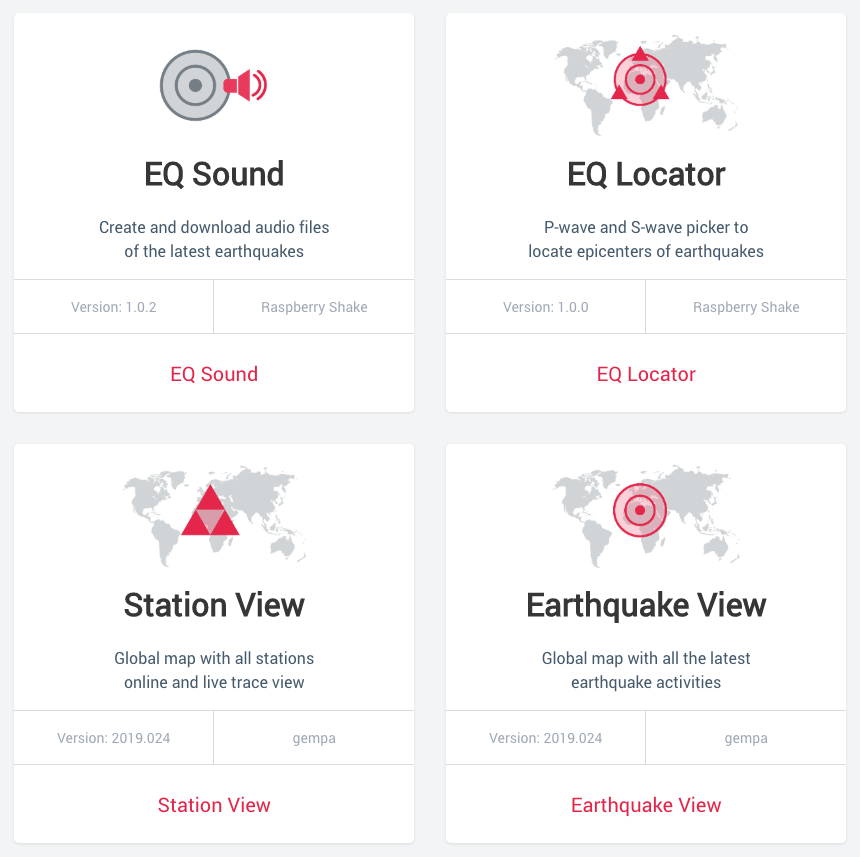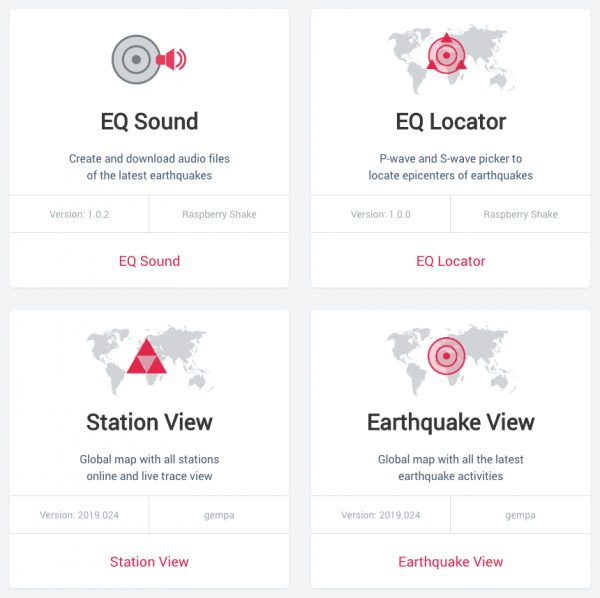 Tip! – Checkout the new EQ Locator tool!
Members
Here you will be able to see other shakers online, search for a user by name or station, and click on a member to view their profile.
Privacy is paramount and full access is only granted to registered users of the ShakeNet platform. This means that even if your personal profile is set to visible, details are only shared with other members and communication is strictly kept through the ShakeNet platform itself. This is a safe place to share and interact, so please do so!
Tip! – By clicking on a station on the map you can see the member it belongs to (if their profile is set to visible). Why not find members in your area or in interesting locations and see what their Shake(s) are saying by seeing the live feed on their profiles?!
RS Forum: Discussions, Tech Support and Feedback
In order to centralize activities, we have started a dedicated RS Forum within ShakeNet. Here you can discuss all things Raspberry Shake, receive Technical Support fast and even give feedback on how we are doing.
With the start of the RS Forum on ShakeNet, all discussions and new posts will be moving over from the old Google Forum, which will eventually be closed. Support will still be offered for a short period during this transition, but for an improved and uninterrupted user experience, we encourage Shakers to start using the ShakeNet forum as soon as possible.
The three key areas of the new RS Forum are as follows:
Discussions

– This is the heart of the forum containing dedicated categories to discuss a multitude of RS-related subjects. Here you can start news topics within your chosen category and interact with community members on the subject.

Technical Support

–  This is the new dedicated technical support channel where you can post your issues and receive expert help to get your questions answered fast.

Feedback – Do you have an idea that you would like us to implement? Thoughts on what we can do to improve? Or would you like to share with us what you love about Raspberry Shake? – Please write to us with your feedback, we would love to hear from you!
Tip! – Start a discussion with specific members by tagging them using their @username, which can be found next to their avatar in posts written by the member in question.
THERE'S LOTS MORE TO COME!
The ShakeNet platform aims to give the Shaker community easier access to what is important to you, by highlighting current activity from around the globe and bringing greater focus to what's shaking near you and on your Shake.
This is just the beginning for ShakeNet and we will be working hard to continue to improve the platform, adding new exciting tools and features in very near future… so stay tuned for updates!